I went to Angel this morning to grab a latte and finish my book. I went to the Tinderbox Espresso Emporium which was not as great as I thought it would be.
I did pass through the Angel market on the way home and noticed that as expected, it's bigger on Saturdays. BUT there are quite a few fine cheese shops on weekends such as this: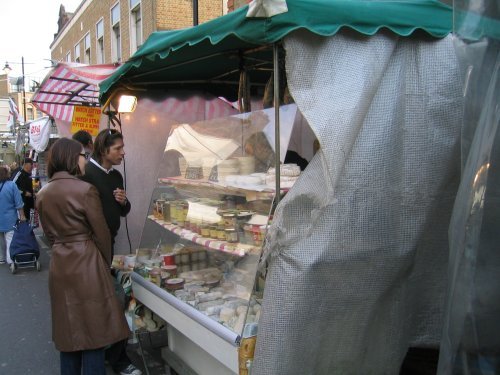 They seem to always to be run by some authentic little French man with a thick accent. Or perhaps they're run by hustlers with seemingly believable fake French accents. Either way their cheese selection is awesome. I was thrilled last week to find Valencay Chevre from the Loire Valley in Portobello Market. Wait… thrilled probably doesn't quite cover it. Jubilant is more accurate. This is a cheese I used in a wine and cheese engagement party I hosted a few years ago for a good friend of mine. I visited every major cheese store in Toronto and only found it in ONE store, one of the famed Five Thieves actually, and it was $28! ( I bought it anyway, and it was incredible. Since then I saw it again at the Leslieville Cheese store and at the Rushton on the cheese plater when my friend Kyle was the executive chef)
Here in London that same pyramid was £3! And it seems almost every little cheese shop has at least 5!
Today's cheese choice?
Langres. A cheese I've never seen or had before. I snuck a photo of the display so that I would remember the name: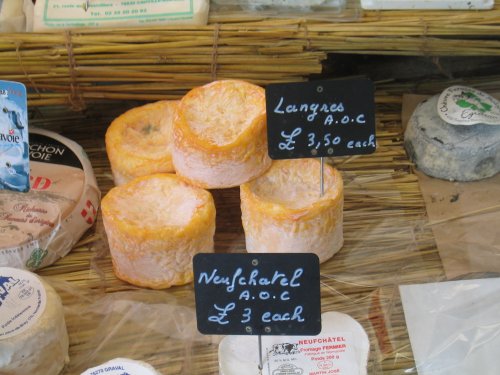 Looks a bit weird eh? And it was a stinky cheese. One description online said dense texture and rich, creamy flavor offering distinct notes of sour milk and a long finish. Agreed on all counts. And I would add, I could taste the stink.
Delicious!