I probably should have done more research on what the Royal Ascot really is about. It was bigger and fancier than I ever imagined. To get to the Ascot you need to catch a train from Waterloo. I decided I was too embarassed to be prancing around on the tube to Waterloo station with my facinator on, but when we surfaced at Waterloo we found a maze of dressed up people queing for train tickets all in their hats! The amount of guys in top hats is what surprised me the most. I should have worn my little hat thing on the tube too, but I didn't know. Actually the whole day seemed to be for people who are in the know. The train to Ascot was packed, and we immediately realized that our 10:50 train was BYO-bottle of champagne! If I had only known! It was an hour ride out, and some champagne would have been very nice. Instead we rode to the sound of champagne bottles popping open every 8 or so minutes. We felt like amateurs.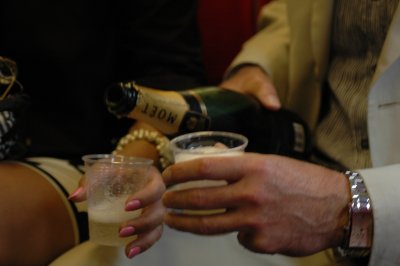 The trained pulled up to the Ascot where there was even more of a crowd! There were police on the platform and even drug-sniffing dogs! (My friends who arrived on a train shortly after ours had the privilege of seeing one bloke get hustled away after a dog sniffed his pocket!).
Jason has decided that if he goes next year, he's renting the full Ascot outfit: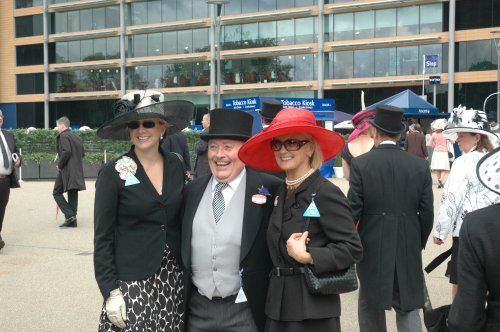 That by the way, is entirely typical of the people who were there. Aside from the glossy stadium, you really don't feel like it's the year 2007.
Jason and I missed breakfast that morning and spent some time perusing the grounds for food. I'd say that the food and beverage stands were 90% booze only (dominated by Pims and Champagne). The other 10% that was food related were fairly high end too! We found lobster & champagne boxed lunches for £38, a restaurant serving a set meal for £60 per head. We happened upon a high end deli shop that served up some ready made over priced sandwiches that we quickly snapped up. Such the Ascot amateurs we are! Turns out we were too close to the Royal Enclosure area: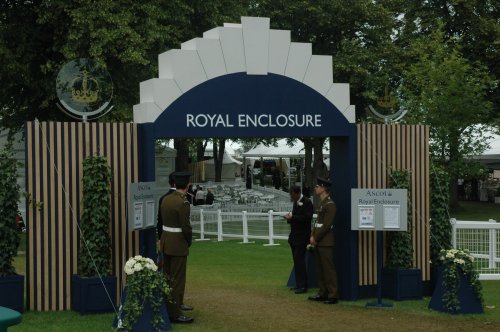 As soon as we went over to our general admission area we saw a burger kiosk, a curry stop and even some pizza. No lobster and caviar on this side, simple food for the the simple folk.
I suppose the most amusing part of the event is the Royal entrance. They take a horse drawn carriage all the way from Windsor to the Ascot (about 10 miles or so) and then ride in onto the race track before ascending up to their Royal box: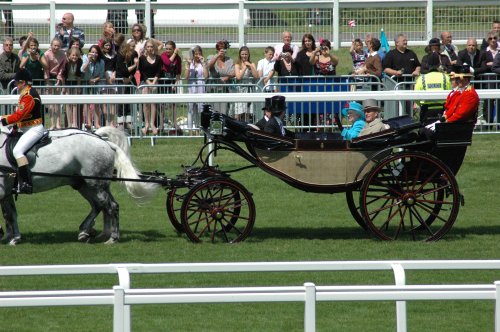 And then the races start. There are only 6 races, the rest of the time is spent waiting in massive lines for more drinks (thanks boys!), placing bets on your horses, and playing spot the crazy hat.
These are some of our favourites: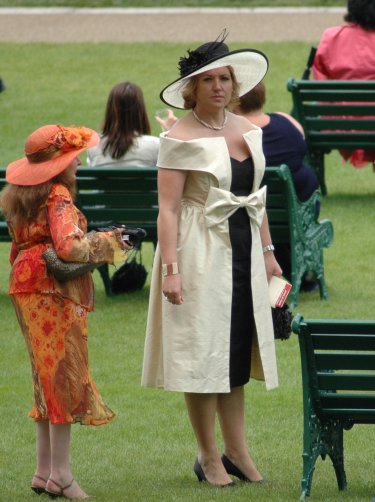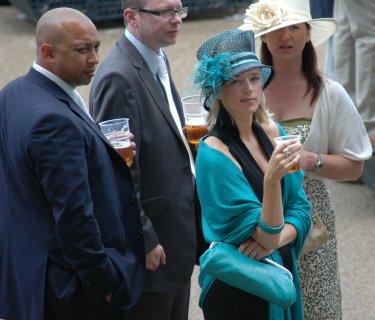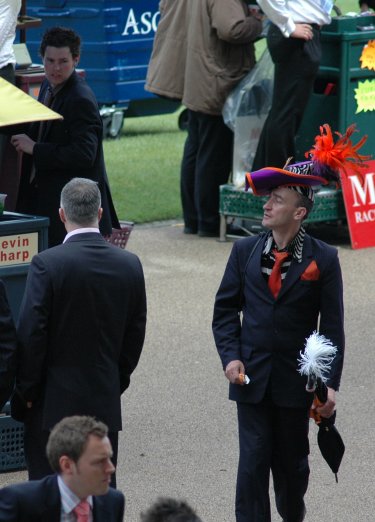 I particularly like this one because in her pink outfit she's sorting out her bets on the next race: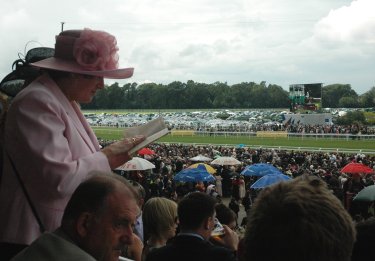 Here's what we wore (Heather I'm sorry to post one with your eyes closed, the other picture I had of the 3 of us my eyes were closed, and well… it's my blog… and..):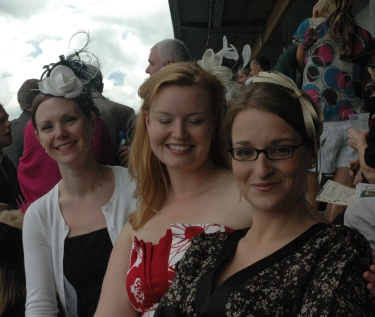 The races were actually quite exciting to watch: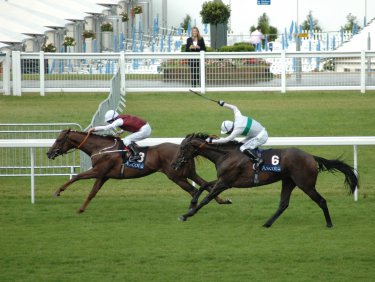 But I can't stress enough how much of a booze-fest this was: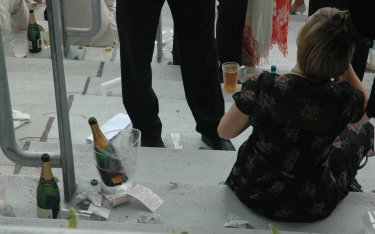 By the time the last race finishes this group was pretty exhausted: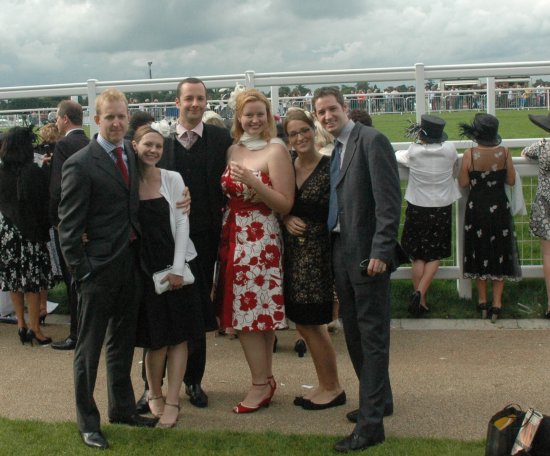 I'll give the Brits plenty of credit. They have impressive drinking stamina.
And of course, we're already planning for next year.