I saw an article in The London Paper about an exhibit on display in London at Liverpool Station's Exchange Square. This is what it said:
" As of today, a new exhibition will celebrate technologies past, with a tongue-in-cheek look at everything, from maps to the mobile phones of old. Crammed into five, 2.5 metre glass pods, the Mobile Museum of Extinct Technology features 3D illustrations of real-life situations … passers-by can pick up a telephone attachment to each exhibit and listen to a comedy voice over explaining what they see."
Sounded interesting enough. And when we arrived it LOOKED interesting: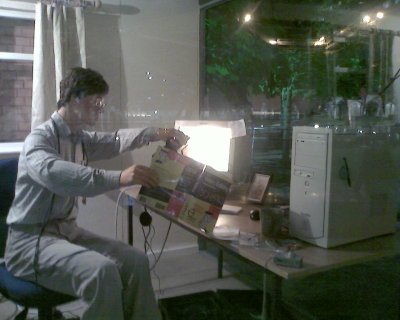 But then you press the button and listen. At first it seems quite funny, referring to us as 'tribes'. But then the blurb ends with something about this technology seen in front of us will likely go extinct at the end of April when Nokia launches the new something or other product. Wtf?! Are you serious?! Hmm. Next pod, same thing. Bloody hell! We've been had. This isn't a 'museum'! This is a giant 3D advertisement for Nokia's new product! How dare you pretend to be art! How dare you even use the word museum!! You lured us here under false pretenses. And the technology you're claiming is extinct isn't even extinct! PC's, mobile phones, CD's, maps? This insults me on so many levels. I was thoroughly disgusted.
I think tomorrow I will channel some of my commuting rage into a nice piece of hate mail to The London Paper for reporting this as an 'exhibition'.