While I'm sure you all can't get enough of "Sylvia rants about her commute," it might be time for me to finally write an article! I just got back (very late Monday night) from one week in Europe – Brussels and Berlin. Europe? Yes, haven't you heard? The Brits don't really consider themselves part of Europe. They often say they're "going to Europe" by which they mean "the continent" or "real Europe." Admittedly, things are pretty different over there – the chavs speak two languages for instance.
I've had just about enough of air travel lately (having taken probably about 70 flights this year already), so I opted to begin my journey to the Continent via the train. I arrived at the Eurostar terminal in Waterloo just over an hour before my train and I couldn't even check in yet! They didn't board the train until 10 minutes before departure. Now that's a nice change.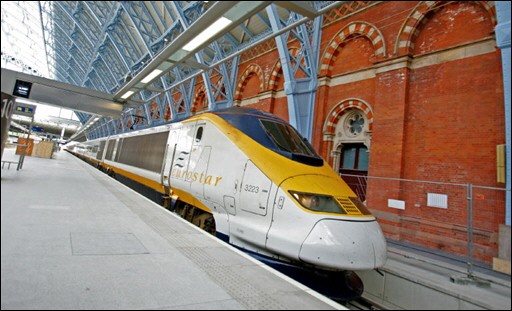 The Eurostar trains are good – better than airplanes – but not as perfect as I expected. I was hoping to get a pile of work done but with no power outlets (c'mon, it's electric!) and no WiFi, my options were limited. Maybe I have to go First Class? However I did manage to get my highest score yet on Ka*Glom (damn you SHAUNDOUGHERTY – how do you score so high?).
But in the end it was a smooth journey. Less expensive, faster, and more comfortable than flying. I'm sold! When the Eurostar opens at St. Pancreas (less than 5 minutes walk from our flat) then I'll be taking it as often as possible. And, they just hit a new speed record for London to Paris this week.
My hotel in Brussels wasn't so great. For instance, there was a moth in the room and no soap in the despenser in the bathroom. Internet accesss was obscene: only WiFi with lousy reception (natch) and it was €20/day!! The best though, was the iron.
Like most hotels on the Continent, there is no iron in the room. I figure there must be some kind of EU tax on irons that make them particularly expensive because they seem to have every other useless hotel peripheral but never an iron. If I'm on a business trip, I would rather have an iron over a TV, but hey, that's just me. But I digress. I phoned housekeeping, as per usual, to ask for an iron. The fellow on the other end of the phone sounded very confused. After explaining to him that "yes, I need it to iron my clothes," he said "there's one in the hallway." Usually housekeeping brings it up but hey, if the can't even be bothered to fill the soap dispensers I'm sure they're not exactly employing a top-notch housekeeping staff.
Here was the iron: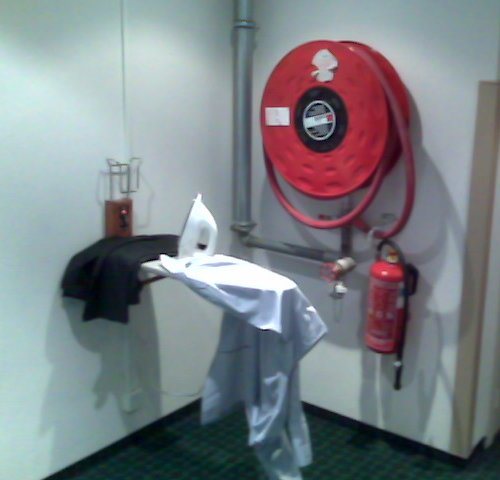 Yes, the ironing board is firmly attached to the wall and the iron is chained there as well. I had to stand out in the hallway, ironing my trousers, while guests and staff walked by. There is something truly ridiculous about this. I was tempted to strip off my clothes and start ironing in my birthday suit; maybe ask a few passers by if they need me to iron anything while I'm there. I'm sure they'd love a naked man standing in the hallway saying "Hey buddy, can I press your trousers?"
Anyhow, I'm done staying in Ibis Accor hotels.
So on to Berlin. My Lufthansa flight was uneventful. Berlin is an interesting city; much more spread out and spacious than a typical European city. I guess that's what can happen when they rebuild it from scratch 60 years ago. It was good to practise my German which is getting worse quickly as I rarely practice.
Guten Morgen. Ich möchte zur Messe bitte fahren.
I was attending the "IFA" tradeshow during the week; this was a first for me. IFA is a typical enormous sprawling German tradeshow – kinda like CeBIT, but not in a shitty city. The strangest thing about IFA is that it's completely open to the public so you've got a young couple pushing a pram next to granny inspecting the latest LCD TVs. Very strange. I was busy all week helping our customers with their tradeshow events and press. Here's Wim – our trusty Señor FAE – helping Lucky Goldstar get their house in order: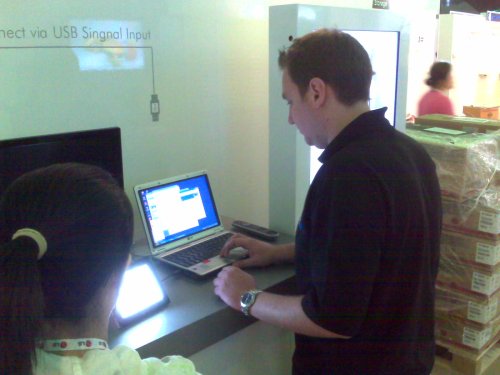 Of course I was also meeting with the press every day to tell them all about our new and wonderful technology that enables users to improve their productivity quickly and easily through the use of multiple monitor computing with DisplayLink's unique network display techno…uh… sorry about that. I've been doing elevator pitches all week.
IFA, it seems, is all about the TVs. Who would have thought there were so many TV manufacturers out there? It seems like China has invaded the LCD market. Every room was plastered with huge LCD TVs proclaiming "Full HD" and "True HD," as opposed to the "Half HD" and "False HD" the manufacturers have been peddling for years.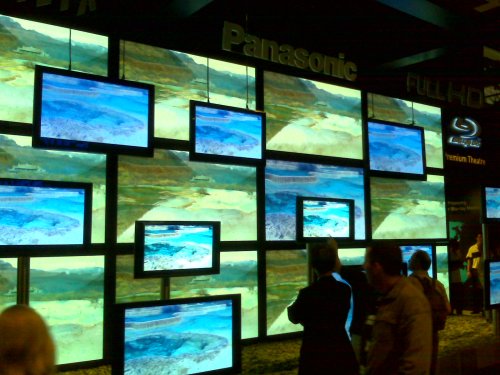 One vendor stood out however: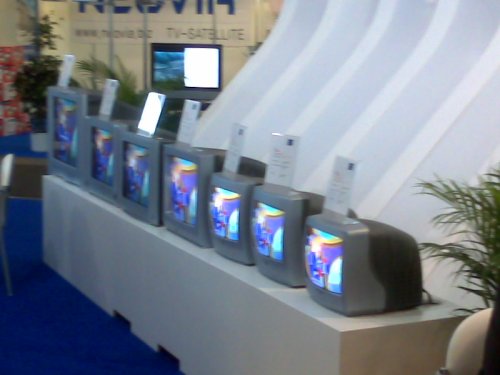 The miracles of modern CRTs! It takes some guts to go to a consumer electronics tradeshow and fill over a thousand square feet with 50 year old TV technology. Bravo!
This wasn't an Asian tradeshow, so there weren't as many funny things as some other shows I've been to. Still, I managed to find a few gems.
Walinda Technology Co. has what has to be the world's most boring trade show booth: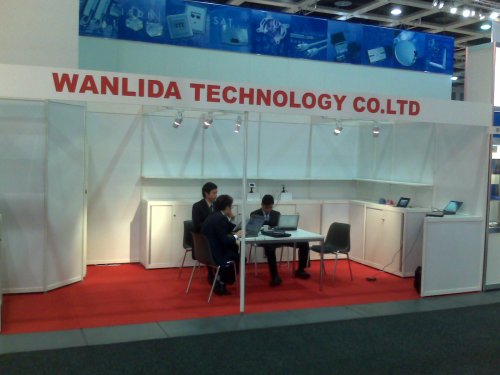 I guess they blew so much cash on the booth space they didn't have the budget for anything else. If Walinda don't do it for you, these folks will keep you 100% satisfied: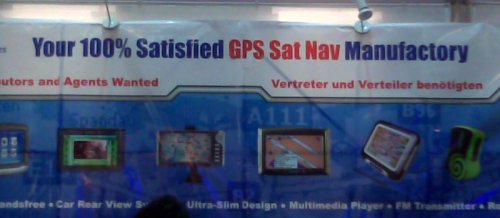 At one of the restaurants, they had these random "speech bubbles" hanging from the ceiling: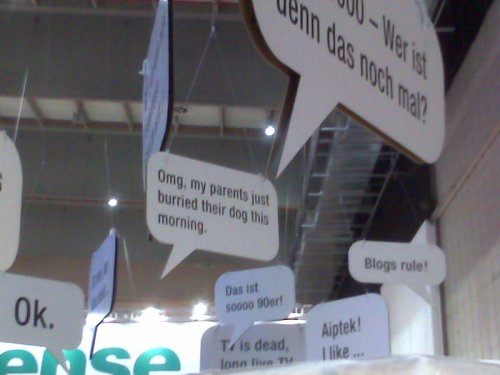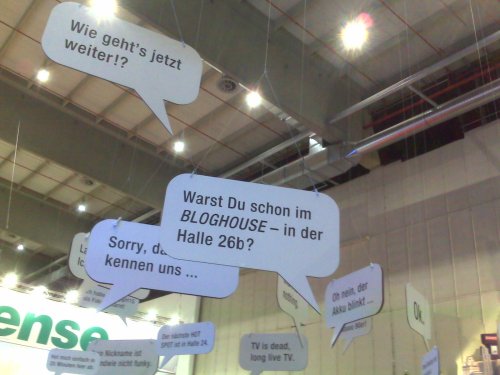 I particularly liked this guy who was walking around: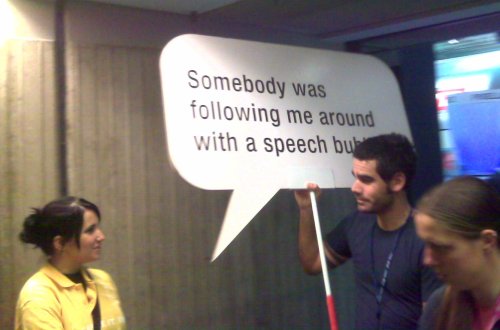 No idea what these were for.
Sylvia joined me for the weekend, which would have been perfect if a) I didn't need to work through half the time and b) shops were open on Sundays. Oh well, live and learn. We did go to a dark restaurant on Saturday night, but I think we'll leave that for another blog post