I've got my UK driver's licence! Oh yeah!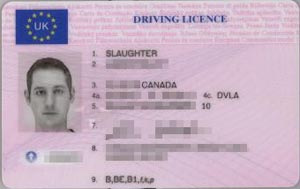 No, it's not what you think – I didn't take a road test. Actually I still have yet to attempt to drive in the UK at all. Through the miracle of international treaties, I can drive in the UK without ever setting foot in a right-hand drive car. It's like diplomatic immunity but … well … nothing like diplomatic immunity.
Consider this list of countries:
Australia
Barbados
British Virgin Islands
Canada
Falkland Islands
Faroe Islands
Hong Kong
Japan
Monaco
New Zealand
Republic of Korea
Singapore
South Africa
Switzerland
Zimbabwe
What do these have in common? Well nothing, except that the UK allows people with driver's licences from this haphazard list of countries to "trade in" for a UK licence. My Canadian licence was due to expire next month so I figured I might as well do the swap. By the way, I notice a disproportionate number of "island countries" in this list. I think there's a pro-island bias in the UK.
But it's not all roses and kitten tails. I cheerfully ordered the relevant forms but when they arrived I found their dirty little racist secret: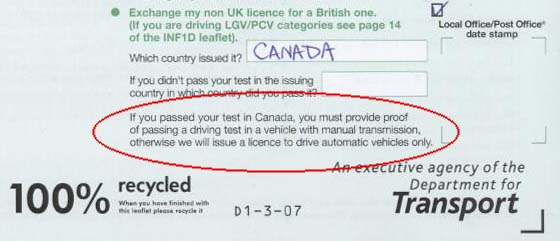 What?! So you're telling me I go take a driver's test in Zimbabwe and I'm a-okay to putter around in a manual transmission but a Canadian can't hack it? Are they saying that the drivers of Barbados are more capable than I, a noble graduate of Ontario Truck Driving School (car lessons)? I feel so singled out, betrayed. I bet if I were born on an Island they wouldn't have any issues with me. At least they printed it on 100% recycled paper.
But then I realized I'm kinda crap at driving a manual transmission anyway and they're probably right: most Canadians can't drive a manual transmission car worth shit.
Ah well. I traded in a licence that expires in 2007 for one that expires in 2017. Shazam! Maybe I'll try taking a driving test in Zimbabwe next time I'm there.