I'm sitting at home all alone this Hallowe'en; Sylvia has been very busy with a project at work. Hallowe'en isn't taken nearly as seriously here in the UK as it is back in Canada – here's it's pretty much just a kid's holiday (though I did see a few students dressed up on my ride through Cambridge today). Now that we're living in a house I have to hide inside to keep the kids away. I'm shocked that kids actually trick-or-treat around the King's Cross area; I guess prostitutes and drug dealers have kids too.
But this is a special Hallowe'en for me tonight. Want to hear a really scary story? Sylvia and I have been sleeping on the floor (and more recently an air matress) for the past 3 weeks! Yep, since we moved into the new unfurnished house we've had no place to sleep! This terrible state of affairs came to a close today after our new mattress was delivered by Dreams. Here she is: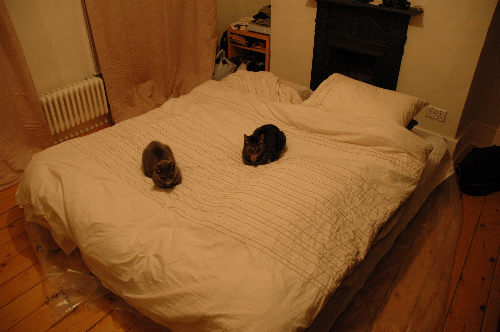 I cannot tell you how excited I am. We decided to go all out: a King-size (or as they say here, "Super King") mattress with 6,000 luxurious pocket springs and a sweet, sweet layer of memory foam on top. That's what I like to hear. They even provided it in a "split" mattress that zips two smallers mattresses together to fit it up the small stairway in our London home. That's the miracles of modern mattress technology; is there anything they can't do?
It's going to feel soooooo good tonight. This is the best Hallowe'en ever.