The jetlag from our trip to Hong Kong is still with me, although slowly getting better. The first morning I woke up at 5:30am, next 6:30am and today 7am. It's progress.
Having drinks last night with my friend Heather the topic came up about the new Eurostar terminal at Kings Cross. Heather has already taken advance of the fabulous convenience for us North London girls, but she did note that the famed champagne bar was no where to be seen. Wide eyed and bushy tailed, I popped in early this morning to have a look.
It's finally arrived, the most publicised part of this new terminal: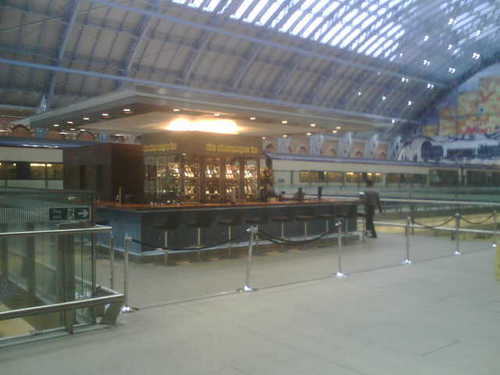 Tiny eh?
I took a peak around at some of the other services. It seems most of the cafes and eateries are French. I suppose that keeps with the theme of an international terminal linking you to France, but if I was French and came up to London I think i'd be a bit disappointed to see crepes … oh how exotic .
Sent from my BlackBerry� wireless device
In other news some change is in the air. I've accepted a new job. Reasons aside, I will note that the new job is in Mayfair, one of three distinct financial districts in London (The City, Canary Wharf, Mayfair) and I'm very much looking forward to exploring my new area. Belgravia has been interesting, but Mayfair definitely sees more action.