Trip 11 out of my little book.
Going to Windsor was trivialy easy. Train from Paddington, change at Slough, and a 6 minute train ride to Windsor. Easy. but wait .. SLOUGH! I'll get to the castle in a minute.
As a fan of the UK version of The Office, a stop in Slough is exciting. It's like being on the set, my eyes peeled for Wernham-Hogg Paper Company. To anyone else, it's a place to go to work in one of the many business parks or it's a place to change trains as you make your way to somewhere better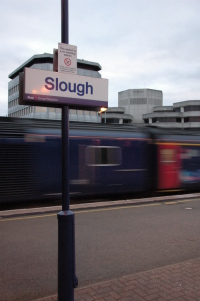 .
Anyway, fun for me, but off to Windsor Castle. I can see how in the peak summer season you'd need a full day. Here we are in the absolute low season, cold dreary day in February and there's still a substantial queue to get tickets, queue to go to the doll house, queue to the states rooms, queue to the loo … God the British just love to make you queue!
As for the Castle, well, it's just a castle:
Well, a really old castle. Going on 900 years actually. And the Queen does live here (one look at the flag and we noted she was indeed in today). The Doll House was completely ridiculous. Built in the 1920's it's the size of our old Smart Car, and includes such ridiculous things like running water. Inside the castle proper, an extremely long audio tour takes you through the States Rooms which is a series of drawing, sitting, dining, dressing, and sleeping rooms. The art collection is impressive, the royals seem to have a fondness for Rembrandt. As do they have a fondness for self portraits. But I guess, back in the day, an oil painting was their version of a family photo album.
The most impressive room inside hands down goes to the one with all the weapons. This houses a massive collection of swords, riffles and daggers. Many of them are excessively decorated, and many are the spoils of the empire's conquests.
In all, it takes a few hours to get through the castle and finally to the chapel. I found this picture on wikipedia: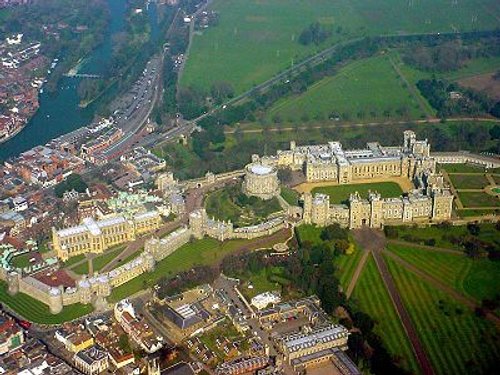 From the air, you can really see how massive this place is!
Outside the castle, a kitchy town thrives on the hoards of tourists. We stopped for tea and noted that aside from the staff we were the only ones speaking English.
Across the river we popped into the town of Eton to have a look. It's a famous private school (oddly called public by the brits. At &;pound24,000 a year tution, tell me HOW is that public!) . Through out most of the year the campus is open to visitors, but during the winter months it's closed. Probably something about needing to study ..
That's ok. Judging by the college chapel I'm not too sad: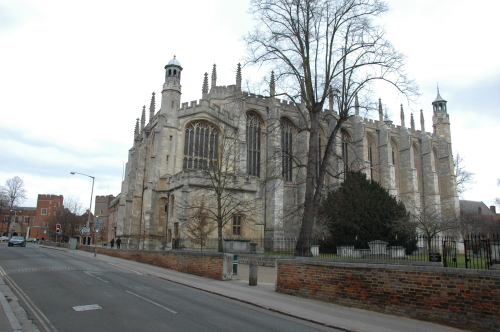 I'm beginning to see a theme in the architecture of these buildings …