The weather has turned.  It was just 1 day after Lindsay headed back to Canada that London burst into summer.  The sun is out, the weather is warm and on any given day of the week at almost any given time there are people out drinking on the patio (patio = sidewalk here).  Maybe my memory is fuzzy, but I don't recall this many people in Toronto outside with beer in hand on say, a Monday.  But here, people drink like there's no tomorrow, which truthfully, based on weather patterns is pretty accurate.  It may be 27 and blue skies today, but tomorrow it could just as well be pissing rain and 12.
I've continued my lunch tim exploration of Mayfair.  Last week I went to see the Drawing Blank Exhibit by Bob Dylan: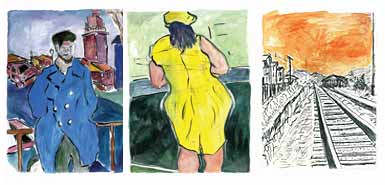 Interesting work, reminiscent of Degas.  I think he should stick with singing.
Later that I week I went to Sotheby's to a proper auction.  There, paddle in hand, I sat and watched people with seemingly nothing else to do with 5000 pounds on a Wednesday at 2pm then bid on Rare and Vintage Wines.  It was exciting for the first 10 minutes.  The auctioneer sputtered out bids at gunfire pace, 4 people sat in a row perpendicular to me taking orders from telephones, and my fellow attendees, clutching their pens, carefully took notes of each lots final price.  After that it got a bit monotonous.  The excitment of holding a bidding paddle quickly faded so instead I choose to study the people around me and guess what their lives were like that warranted purchasing 36 bottles of 1991 red wine from chateux somewhere-snooty.   Surely a few of these people were in the restaurant business.  Otherwise, just how many dinner parties can you have before you get the reputation of serving that SAME wine.  Maybe they were shop owners? 
Then the lots of champagne came around, and my ears perked up.  Fresh from my trip to Reims I studied what was on offer.  16 bottles of a 1986 vintage.  Not bad.  3 magnums from 2001.  Magnum!  I snickered to myself.  I'll never forget magnum now.
Did I bid?  no.  As tempting as it is to join in the fun and raise my paddle too, at 2,400 pounds I can't really afford my bluff to be called!