We signed up for Tesco's "ClubCard." Basically a loyalty program card like every big chain has these days. After several months of "collecting" I decided to see how many "points" we had worked up. Huh. Only 360? Doesn't seem like much. Then I find out how this ridiculous program works.
First of all, you need to start collecting points, and then log into the Internet or call Tesco's to request how you want to get your points. Why do you need to do this? I don't know, but any points you collect before this point are null and void. Then, Tesco's will send you a newsletter each month with your "coupons." No, it's not like a useful loyalty program – you know, like when you go to Shoppers Drug Mart and the cashier every so often says "Would you like $10 off of this purchase?" Oh no, you have to register, collect points, then wait a month or two for your "coupons" to come in the post.
So the damned thing finally came in the post today. Here's what was in the envelope: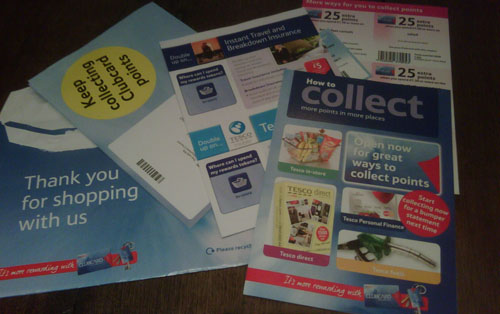 Here's the part I actually care about: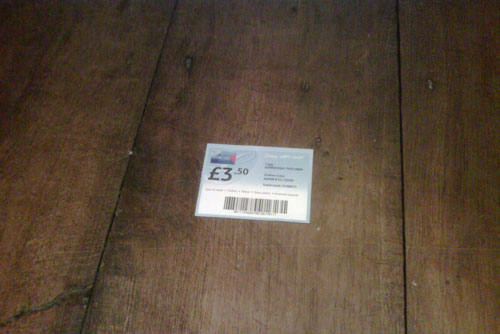 Yeah, that's right kids! I get a whopping £3.50 off of my next purchase!! That'll just about cover one coffee for Sylvia at Fernandez & Wells. Remind me why I go through all this crap for £3.50? And of course if I forget to use this coupon I lose the £3.50 and the points are useless. Thanks Tesco's!
Incidentally, I'm curious to see what they do with this data so I registered the ClubCard in my cat's name. So every newsletter comes addressed to "The Lady Rib." I'm sure Tinrib enjoys getting new mail in the post. Maybe I can use the excess crap Tesco's sends her every month to line her litterbox.