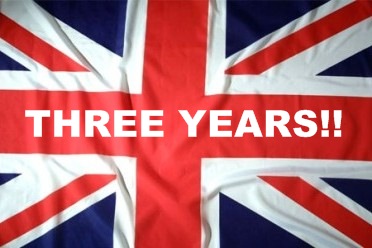 Today is my three year anniversary of coming to the UK!
It's been a great three years, and Sylvia and I are still loving it (sorry: no plans to move back to Canada).
During this time I've learned to love British pub culture and in particular (warm) English ales. Beer anywhere else in the world just doesn't cut it any more: there's nothing better than a warm pub & pint on a cold English day. There's so much going on in London – great food, great events, and lots of friends coming through – that we're never in search of something to do! Decent public transit is a nice change as well, and it's fantastic to be able to take a fast train to Paris or Brussels with St. Pancras right around the corner! We also (obviously) love the ability to travel easily (while cheap flights are still around!). I miss good peanut butter though …
In these past three years we've travelled to the Cook Islands & Fiji, Hong Kong, Poland, Spain, Switzerland, Norway, Italy, Finland, Turkey, Morocco, Greece, Ireland, Estonia, France, New Zealand (& a bit of Australia), Germany, Egypt, Sweden, Croatia, Montenegro, Belgium – not to mention numerous trips back to Canada (bloody weddings!). I've also been shipped off for work to Taiwan, Korea, Japan, China, San Francisco, Las Vegas, and various parts of Europe more times than I'd care to count (though I have to count for tax reasons). After all that travel my passport (a 48 page one!) is full! Of course, my UK Ancestry visa is still valid and the UK government doesn't want to re-issue it so I guess I'll be carrying two passports for a while … and don't get me started on trying to get a new Canadian passport while living abroad …
We've spent a lot of time out of the country, so we're starting to think we should try seeing a bit more of the UK (and London). Plus, working in Cambridge doesn't allow me to get out in London nearly enough for my liking. Speaking of which, I don't even want to think about the amount of time I've spent on the train between London and Cambridge on my way to & from work. This year I finally cracked and started working from home one day a week, which has allowed Sylvia and I to start taking Chinese lessons together (我们会说一点汉语).
I'm definitely heading to the pub today. Here's to another great year in the UK!