It's been about two and a half weeks since my first surgery and almost a week since my second. All is well! I had an eye test on my right eye and I can see better than 20/20 – so better than I was ever able to see using contact lenses! It's still amazing to me that this kind of surgery is even possible.
Here is what my right eye looks like. In the right light (like in this picture!) you can see the Artiflex intraocular lens that's permanently attached to my iris, beneath my cornea: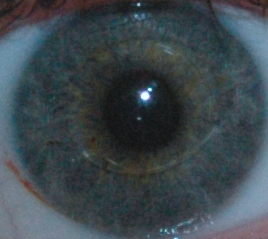 Amazing.
I'm still taking eye drops for the next month or so (antibiotics and steriods), but by about the time of the yearly Saturnalia holidays I should be in the clear.
Fun fact, the steroids that I'm taking (dexamethasone) is the same drug that resulted in Polish cross-country skier Justyna Kowalczyk being disqualifed from the Under 23 (U23) OPA (Alpine nations) Intercontinential Competition in Germany. Too bad: I was planning on participating in competitive cross-country skiing this winter after my convincing run last year in Finland.