I do love that Easter in the UK is a solid 4 day weekend.
We left painfully early on Friday morning, actually 7am probably hurt more because we were out a bit late the night before, which I learned is often called "Bad Thursday" over here. We had been out in Soho.
Anyway, since there are over 600,000 Polish immigrants working in the UK, flights back to Warsaw on a super religious holiday are a bit hard to come by, and we had to end up flying through Frankfurt, a silly layover considering that the flight from London to Warsaw is less than 2 and a half hours.
After weeks of fantastic spring weather we landed in cold cloudy Poland. I know.. I know… there's snow in Canada, it could have been worse.
The weekend involved 3 planned family dinners, plus a spontaneous lunch at my grandmothers the day we arrived. Since 3 of those 4 meals were at grandmothers you can only imagine the amounts of food we were forced to eat (you just can't say no to grandma).
But in between the feedings we got to see some of the sights.
The Old Town, which was essentially leveled after WW2 and impeccably rebuilt: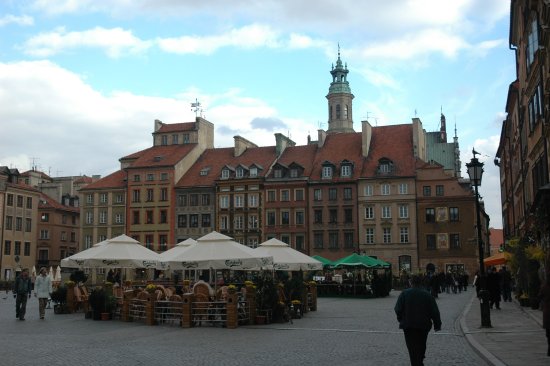 The classic image of Warsaw, the former Stalin Palace of Culture built during the communist occupation now simply called the 'Palace of Culture and Science'. It may have been a gift from Russia with love, but generally the Polish seem to hate it: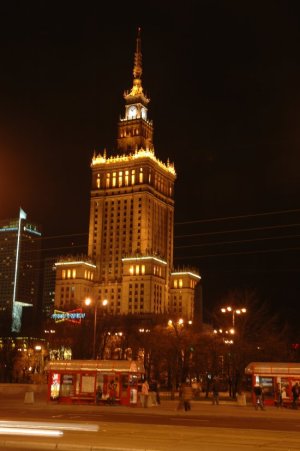 These peacocks in the 17th century Łazienki Park don't seem to mind the cold damp weather: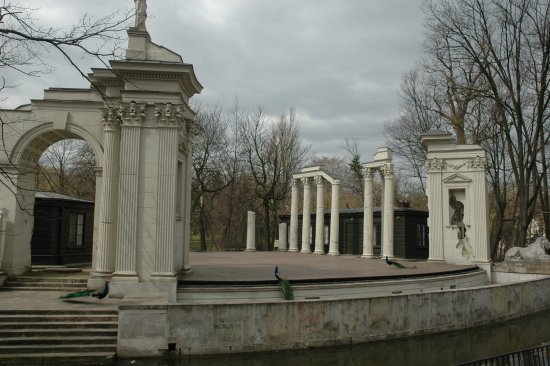 But of course, what I really love about Warsaw is the contrasts. Here you can see the convenience of family shopping. Dad visits the sex shop on the left, while mom is picking out her child's First Communion outfit on the right. All this on Pope John Paul II Avenue!