It turned out to be a pretty busy weekend. Saturday morning hat shopping with 2 friends was a lot of fun. I really should have been born in another time, because I think I look awesome in hats. I did learn though, that hat shopping is a lot more complex than I thought. There are hats, facinators and petite creations. I liked the petite creations best on me (although the facinators really suit my friend Kaila) . What do we think of this one: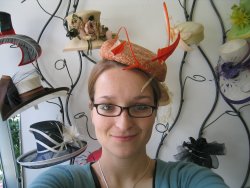 ps. did you notice the crazy hats in the background? They're insane, and yet I love them all!
I'd gush some more about the weather but I worry that I might lose my loyal reader(s), so I won't – hi Jim! But I will say that us ladies who shopped for hats equally enjoyed coffees by the river in Putney, and it was glorious.
Saturday evening started off with going to meet one of Jason's coworkers for a quick pint or two with intentions to go out clubbing later, but instead morphed into something must messier. we did go to a pub, but then after it closed we went to a tiny Cuban place that had some deadly (and delicious) mojitos: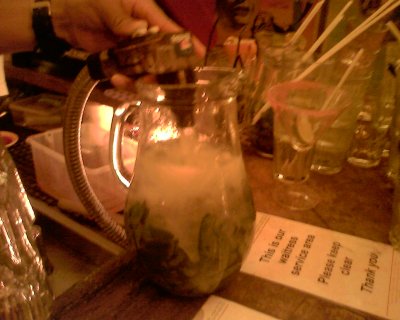 Almost as delicious as the Mojitos at Cafe Havana in Manhattan. Eventually we did leave, and I recall taking a night bus. Actually we weren't very efficient, we took a series of 3 buses to get home.
This morning with a slight dull headache I decided we should try to cure ourselves with an injection of culture at the Chelsea Art Fair. Upon arrival, seeing a entrance fee of £6 each proved that our cheapness greatly out weighed any desire to enrich our lives with the local Sloane Square art scene. Or maybe it was more so our desire for a nap.
Over at St. James part, the London marathon was out in full force (crazy freaks!), but so were the picnickers and other seemingly lazy people. 36,000 people are spending their Sunday running the streets of central London, and we're in a state of near REM under the shade of a tree.
Photos of two very different Sunday afternoons: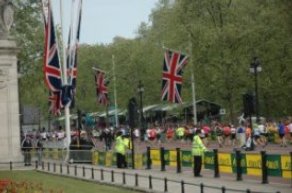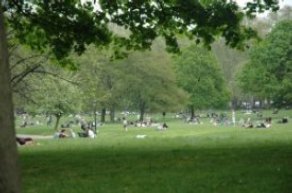 For what it's worth we did go over and look at the runners, but got bored rather quickly. Marathons are so predictable, it's usually a Kenyan who wins anyway