We are as they say, in the market.
After probably far too much analysis we've decided that we should be flat owners in London (I'll spare you the details of my spreadsheets and emotions that lead us to that decision). So we've started to look. Kings Cross, as many people know is a 'diverse' area to say the least. A shit hole with a sprinkling of gentrification is probably more accurate. It's also the intersection of 3 different postal codes (N1, NW1, and WC1) and operated by two different city councils (Islington and Camden). This makes Kings Cross have pockets of massive housing diversity. Our area of choice would be in WC1 in one of the gorgeous red brick 1930's buildings that seem to be well maintained. Of course one look at the floor plans and we quickly decide that a 475sqft 2 bedroom flat will just not work (how you manage to take a space that size and fit in 2 bedrooms is beyond me).
We then found this one pocket of Kings Cross that seemed to have reasonable prices so after looking at a few listings online we decided to see the area for ourselves and this is what we find: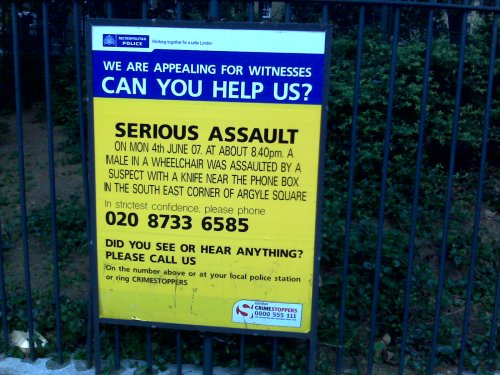 Now I know that when you're busy thieving and such, morals aren't too high on your list of priorities, but surely assaulting a poor man in a wheelchair who's only trying to make a phone call, say to wish his mother a happy birthday, has got to send up some sort of red flags! Christ, he's in a wheelchair! And might I add, that at 8:40pm it's broad daylight!
Nice neighbourhood. Seems like some great people live here.
I think we'll pass on buying a flat here.
And so the search continues.