Hard to believe it's July 1st, what with all the rain and the freezing cold weather!! It makes me mad that on Canada Day I need to wear a cardigan! But yes, i was warned about the rain. After a nice soak in Notting Hill and my Sunday morning cappucino I jetted across town to Angel to meet Jason and James at Foxtons, the most dreaded of all property agents. ps. everyone in London is named James. 2 people at work (out of 35 that's impressive), our mortgage broker, and our real estate agent. They're all around the same mid-30 age. Must have been THE name back in the early 70's here in england.
Foxtons does a great job of living up to it's horrible reputation. I called them 2 weeks ago about a flat I saw posted on their site. The guy called back 2 days later, to tell me it was sold. oh ya? No kidding! This is London, flats are sold within hours here. People put more thought into buying a hand bag from the Kate Moss Top Shop line than a fully attached 400 sqft flat. Anyway, my consolation prize with James was an appointment to look at properties… 2 weeks later. sigh.
So today was our big day with Foxtons.
Tuns out we only get an hour slot, and he only had time to show us 2 properties. Of course of that hour we spent about 20 minutes of it trying to find the properties. The guy didn't know where they were! Seriously. What kind of property agent is this?! Long story short… no sale. We were not impressed with either property, or with Foxtons. Shame that they have the best website, and work the most convenient hours (there are too many agents who don't work past 6)
So, back to Angel to meet with 2 Canadians for some Sunday roast. Sometime between the gravy and Yorkshire pudding (which by the way is not a pudding at all, it's more like bread, a gross semantic misrepresentation) the clouds parted. The laws in London meteorology were over ruled, and my long lost friend, the sun, returned. Within minutes we had blue skies, a bounce in our step and a hankering to share some love for Canada. So off to the Covent Garden market we went.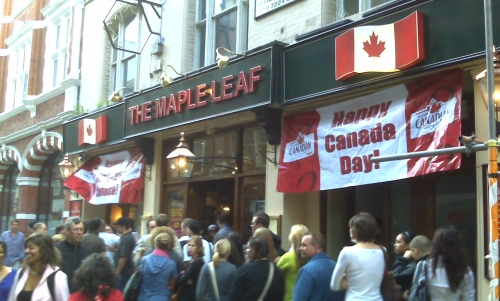 I'll give the Maple Leaf pub lots of credit, the place packed in more Canadian cliches than I thought possible. Sleemans and Moosehead beers on tap, Tragically Hip and Nelly Furtado coming through the speakers, old hockey games on the telly and poutine on the menu. But it went further. The place was decked out like a giant log cabin with Mountie figurines on the wall.
A giant grizzly in the corner, with a well placed hat: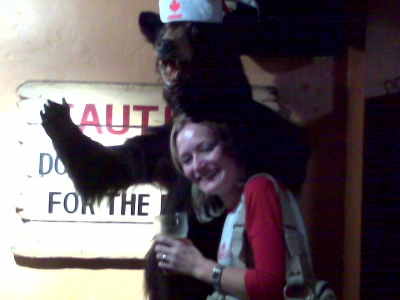 And the placed was sufficiently packed with a pushy enough crowd that instantly transported you back to your favourite university bar. And in my opinion their crowing achievement was achieving a Canadian smell. Picture a nice hot ripe hockey bag with a splash of the Ridout (or Bruny for you UofT folks). Impressive.
On the way home we noticed that weren't alone in our love for Canada: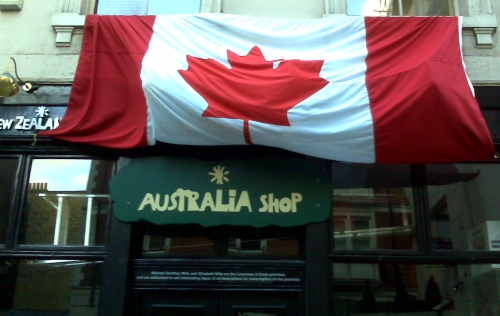 I think might go back on the 4th and see if they show the same love for the USA.