Sometime overnight we officially crossed into Siberia. Scenery has changed. Yesterday was birch tree forests with small industrial towns. Today the trees are thinning out and there are much larger expanses of open untended grassy lands. Still lots of snow. We slept through the 8am (moscow time, +3 local time) stop at Ishim, so we'll have to wait 3 and a half hours until Omsk to experiment with any more food tastings.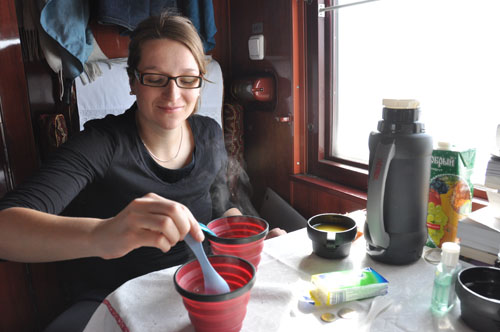 Lonely Planet tells me we've crossed into another time zone, we're now at Moscow + 3 hours. Jason discovers that our shared ensuite shower doesn't have enough pressure to wash his toes let alone any other body part so he resorts to filling up the sink for a splash shower of key parts.
In Omsk, we buy some bread and onion rings /crisps from a little kiosk on the platform. At this stop we're more brave and venture off the platform to have a peek at the town. just a peak though.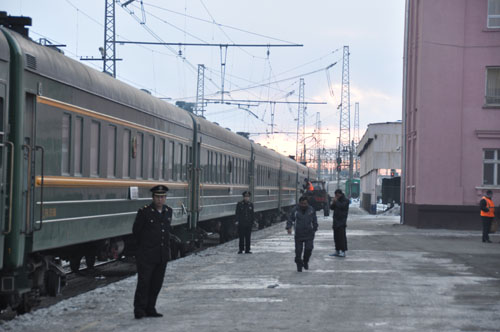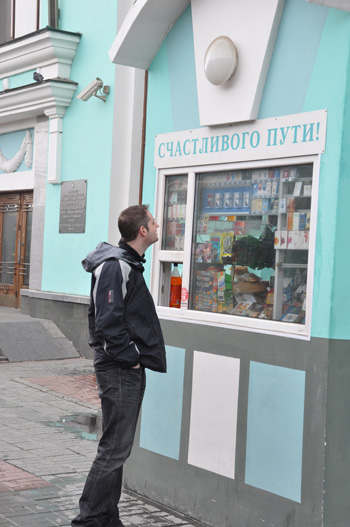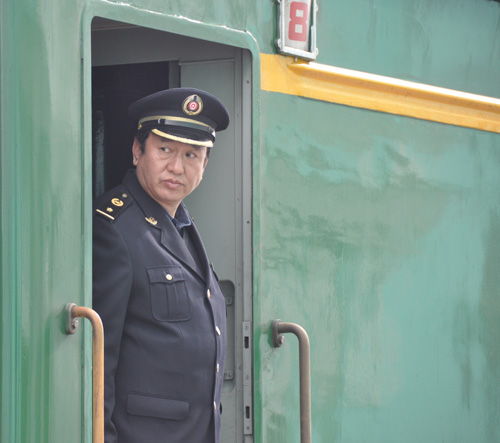 Later in the day, we head back to the dining car for our main meal. My 3 hours of menu translation the day before proves useless as both dishes we requested were out of stock. Pierogies out of stock in Russia?! Criminal. Again we are the only ones in the dining car. The staff watch Braveheart dubbed over in Russian. My borsht is quite delicious.
At the next stop we pick up some bottled water. No snacks tempt as this time – i think we've filled our quota of salt for the day.
We spend the rest of the day reading, lounging and slowly being rocked by the train into various naps.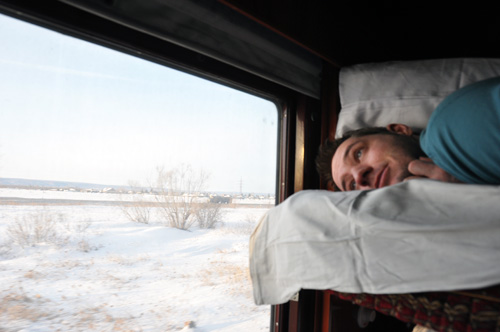 We make one more stop in the evening at Novosibirik, surprisingly a huge city. Interestingly enough, we had tried to come here last year for the solar eclipse in August but couldn't get the planning to work. On the platform a few kiosks are open, we browse, but decide 300 roubles is too expensive for sausage.