Well that border crossing was everything we read it would be. Long, tedious, and at the lovely time of midnight. The mongolian side was fairly straightforward. An hour to check passports and search our cabins, and off we went to the Chinese side. In China though, there was the thorough passport check, cabin check, and then the joy of them changing the track gauges (from single in Russia/Mongolia to double track in China). This took hours. Our cabin attendant did inform us that as our passports were already checked, we could get off the train as the process would be 'very boring'. So off we got, and wandering into the large station shop. This shop had absolutely everything from food to house hold detergents, fresh fruit and veggies, even bedding, linens and jade carved dragons. We took our time and made a few purchases. When we went out outside again we had the pleasure of finding the platform empty – no train. Us and about 20 or so other tourists looked a little baffled but as we all tried to keep our game face on no one looked too panicked. The fact is we were all probably doing the same thing, trying to look like unfazed seasoned travelers even though we had no clue where our train was our when it was coming back.
An hour or so later, we got hussled out of the station through the back door onto the main street. Now i was a bit worried. Jason's Chinese came in handy with a few 'Wei shema's?' (aka: why), we managed to figure out were were being moved to another building, the departures terminal. Over another hour later the train finally showed up and we were allowed back on. Dear Lonely Planet guide book. Could you not have mentioned this detail? If you get off the train at 10:30pm don't expect to get back on until well after midnight.
Back on the train, in no time were asleep, wanted to rest up for our last day on the train.
This is what we awoke to: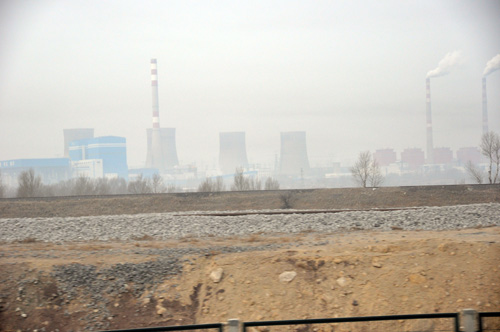 Kind of to be expected I suppose. Is that smog, fog or the infamous spring sand storms? hard to tell.
For our day in China for some reason we were given meal tickets. This meant that the restaurant car was packed, but at least we got to see some more life on the train. At the border last night we'd clearly picked up a pile more passengers. The restaurant car itself was nice. Clean, efficient, kind of neuvo communist looking (unlike the old fashioned soviet looking Russian car). Breakfast was a quick efficient affair. Hard boiled egg, bread, and tea. Sit, eat, get out al in under 15 minutes.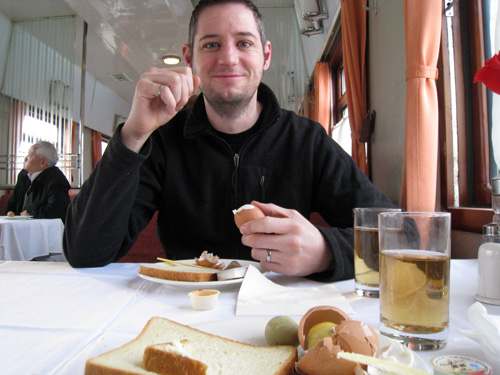 So, what's the view like in China? Well, you spend plenty of time in Inner Mongolia which looks sparse and desert like: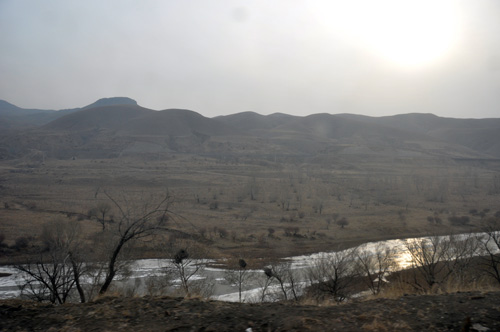 Then you pull up to a city of 3 million people you've never heard of to find mass industrialization: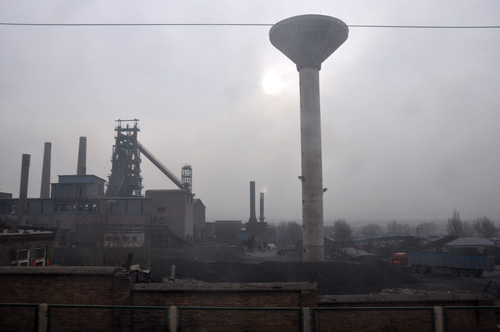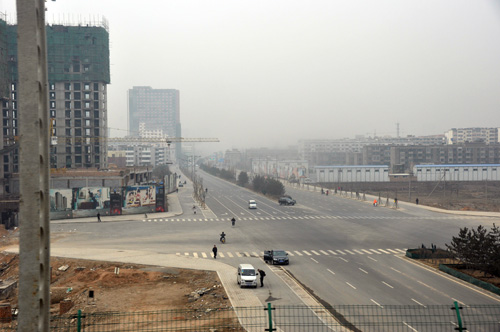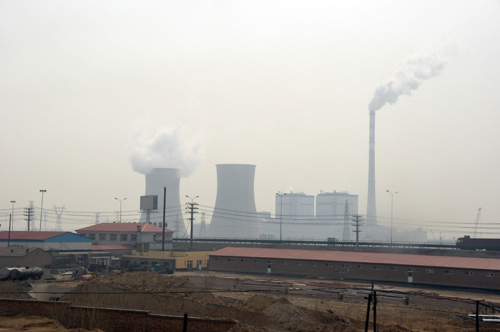 At certain kilometer marks our guide book would tell us things like: the north side of the train will offer commanding views of the great wall.
Well, maybe on a less hazy day, this was our view: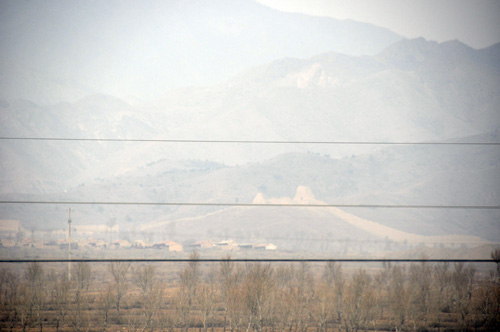 Can you see it? barely?
Lunch was another set menu in the dining car, rice vegetables, meat ball things – pretty tasty actually. And the afternoon was spent looking at more scenery like this as we got closer to Beijing: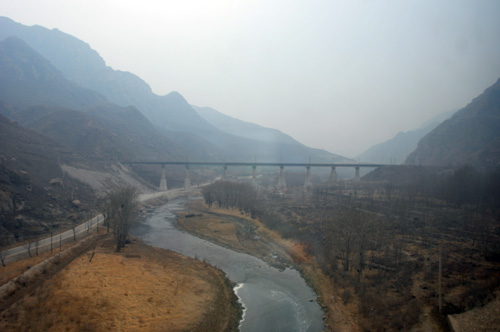 One very annoying thing is about 2 hours outside of Beijing the cabin attendants start to clean up. But not a little tidy up, like come in take all our sheets and bedding, the table cloth, our carpet, our window curtains…. they stripped our room bare. They also mopped all the floors even though us filthy travelers with dirty shoes are still walking around?! To me its as annoying as being told you can check out of a hotel at noon, but at 10:30 the cleaning staff will come in and start servicing the room around you. We've been on this train for 6 days, can you not wait another 2 hours? And seriously, you probably want to keep those cushion covers on the upholstery, remember we haven't had a real shower in 6 days!
But, by the time we pulled into amazingly we were only about 9 minutes late. Fantastic punctuality.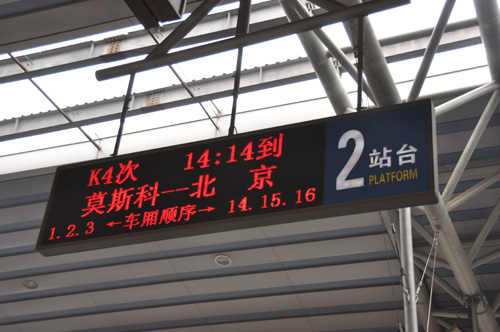 So, 5 and a half days on a train – overall? We loved it. And actually found ourselves wishing we could stay on a bit longer. Favourite day? Mongolia. All around the most interesting scenery. Would we do it again? Probably not that same route, but another long distance train ride, for sure.