So I accepted a job offer today!
My start date is Tuesday April 10th, the day after Easter. That means my life as a lady of leisure ends in 12 days.
Speaking of which, I met my fellow lady of leisure, Kaila for lunch today in Angel.
This is an amusing busker on Upper Street in the heart of Angel: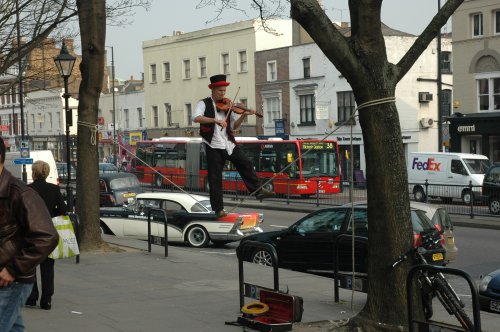 He totally earned my quid.
We also stopped for a refreshing pear cider at the Bull, an Angel drinking favourite.
The Bull: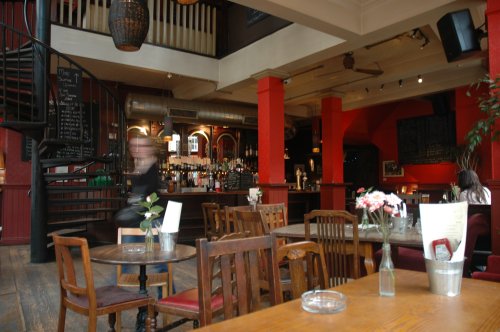 I swear the place was really busy like 10 minutes earlier, I just happened to catch it looking completely dead, and us looking like lushes.
Later I ventured into Chinatown to pickup some more cooking supplies. London's Chinatown SUCKS. What's with all the white people?! And why are the cashiers speaking English to me? AND she actually gave me a receipt?! But how on earth will the poor white girl get ripped off?! I miss Toronto's Chinatown where I would happily shop being one of the only white people and only be able to know what I am buying by smelling it (learned that when I accidentally bought mint and not Thai basil once). No, this China town is too touristy. It's full of overpriced restaurants. Where are all the food markets?! I counted only 4, and not a single one was selling dried shrimp flakes outside their shop! And the prices are obscene too. £2.99 for small package of thai green eggplants?! £ 2.69 for a bunch of bok choy?! To me, Chinatown is synonymous with dirt cheap produce at occasionally questionable quality.
I think I'll need to consult google to find out where in this town I can buy good cheap Chinese produce.
Tomorrow my life of leisure continues with a shopping trip into Sloan Square.