Another week of work with the same old grind. Well, that's what you may be thinking, but I just got off the most exciting week of the year – the glamour and excitement of one of the world's largest trade shows for PC component and peripheral manufacturers: Computex Taipei 2007! Yee haw! Jealous yet? You will be.
Computex Taipei is an enormous sprawling collection of Taiwanese electronics (fun fact – the domain name computex.biz is the only .biz address not owned by spammers). The show is spread out throughout four buldings of the Taiwain World Trade Centre complex that surround the Grand Hyatt Taipei and Taipei 101 (after four days, still no word from Diana). The show floor is mainly made up of endless booths from every Taiwainese company you've never heard of.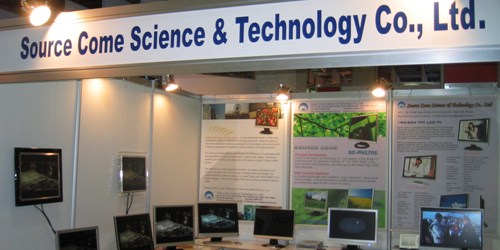 Who these days doesn't own a monitor from Source Come Science & Technology?

Normally I look forward to the beautiful Taipei summer weather for my annual Computex pilgramige: a crisp 38C with 95% humidity and heavy smog. Unfortunately this year it was only about 30C with 90% humidity and constant thundershowers. Nevertheless, I didn't let that put a damper on my mood – there was pointless technology to explore.
While you would think that most attendees come to see the latest in cheap Taiwanese electronics, the primary draw seems to be the booth babes. Seriously, follow that link. You would think by the photos that Computex is just an endless line-up of scantily clad Taiwanese girls flaunting obscure technology brand logos.
But there's more to Computex than just booth babes. There's also the exciting game of hunt the Engrish.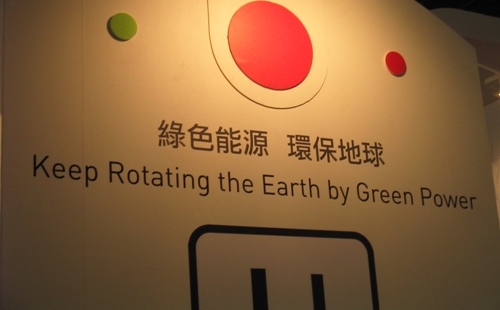 Few of us comprehended the importance of green power until now.


VESA need a spell checker.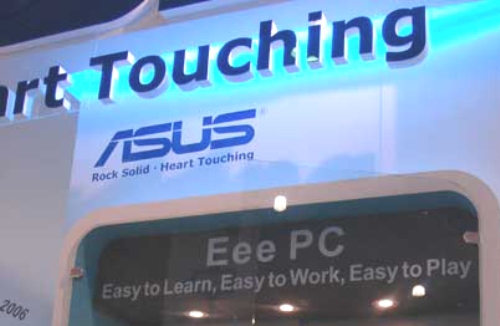 Eee! PC! ASUS are one of the biggest PC technology companies in the world and they still don't understand that "Rock Solid. Heart Touching" doesn't make any god-damned sense.


I've been to Computex.org and this is clearly false advertising.
Of course the big-names in the PC industry also share the stage with Shiunn Yang Enterprise Co., LTD. Intel and AMD put plenty of cash into the event: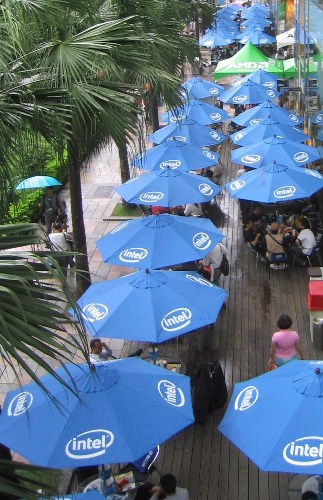 Never have I seen market share put so eloquently in picture.
In the end, Computex met all of my expectations – it was exactly the same as last year. As much as I would like to make this one my last (you know, go out on a high-note like Seinfeld) it's pretty unlikely given my choice of career. It's inevitable: I'll be back for Computex 2008 along with all the rest. With any luck, Diana will have made up her mind by then.