This analysis by Which? speaks to something that has bothered me for years but even more so in the UK: why do we have to pay so much for a lousy cup of tea?
I'm not much of a coffee drinker, so if I'd like a warm drink it's usually going to be tea for me. Yet somehow tea is ludicrously overpriced. Which? found prices that ranged from 89p (McDonald's) to £1.65 (Costa Coffee) for poor-quality industrially processed tea in an off the shelf teabag. I can understand the mark-up to cover the cost of a high-street shop but this is ridiculous.
A recent Guardian Article about the same Which? analysis has the following from a Costa Coffee rep:
A spokeswoman for Costa said the chain was committed to "extremely high standards on the quality of our products, the environment in which they are served and the level of training we provide our in-store baristas".
This bothers me even more. Sylvia has become a bit of a coffee snob since working for an Australian company so we routinely frequent places that put a lot of emphasis on the best coffee (no Costa Coffee by the way – they're one of the worst chains around). Yet very often these places still do the same thing: give you tea bag that costs 3p at the grocery store and charge you up to £2 for the pleasure.
And this is what I don't understand: why is it that there are hundreds of "gourmet" coffee shops around, shops with highly trained "baristas" using freshly imported mountain-grown beans, hand picked by the honest, simple, hard-working indigenous peoples of… wherever … and yet their tea comes from a PG Tips or Twinnings tea bag? I don't see these places offering Nescafé instant coffee or Maxwell House grounds but it's the equivalent level of quality.
The worst part about all this is that there is a proper way to have a good, quality cup of tea, and it doesn't involve a tea bag. Like coffee, there can be a huge difference in the quality of the end product based on the way it is picked, processed, and prepared. The best tea leaves come from the top of the bush and are best hand-picked, as opposed to cutting off a chuck of the top by machine, like is the source for tea bags. This is a labour intensive process of course, but that's exactly where you can start to pay for a better quality product.
Tea that is hand-picked can be dried with the whole stem and leaves intact. Here is an example of traditional Chinese Pu'erh tea (普洱茶):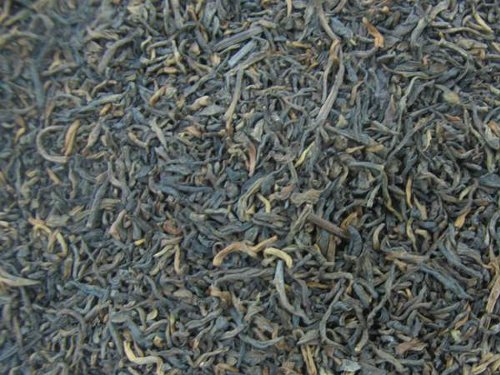 When it comes to preparing, tea can be very complicated (just like your barista's coffee). At one end of the spectrum are the traditional tea ceremonies in Asia, but while these are possibly the best way to enjoy a good cup of tea, there are simpler ways that are conducive to take-out shops. To start with, different tea requires different temperatures of water and sorry America – lukewarm water with a teabag on the side is not one of the options. The other major thing to remember is that tea is steeped for a given amount of time and then the tea is removed from the water. There's nothing worse than bitter over-steeped tea, yet this tends to be the standard product at most chain shops.
Fortunately in a city the size of London there are some places that serve tea properly. Here are a few that we frequent:
Yauatcha (http://www.yauatcha.com/) 15-17 Broadwick Street, W1F 0D
A dimsum restaurant with an extensive tea menu from Taiwan and China
Yumchaa (http://www.yumchaa.co.uk/) 45 Berwick Street, W1F 8SF
A quality tea shop with dozens of different kinds of loose-leaf tea prepared properly.
Tapped & Packed (http://www.tappedandpacked.co.uk/) 26 Rathbone Place, Fitzrovia, W1T 1JD
One of those aforementioned coffee snob shops except this one applies the same snobbery to their tea, going so far as to use a thermometer through the process.
Know of any others? Please let me know in the comments!