Friday lunch.
Like most days, I treat weekday lunchtime to be an exploration into British culinary culture. First thing to note, obsession du jour is sandwiches, actually ready-made sandwiches. Actually, ready-made sandwiches on really shitty cheap bread. My parents told me that 5 years ago when they were visiting, baguettes were all the rage. My best guess is that the dreaded white carbs got a bad name within the last few years and the delicious baguette was pushed aside for seriously, what looks like Wonder bread.
To each their own.
Having already mastered the ready-made take-away sandwich places (Pret a Manger, Eat and M&S) I've been venturing into places that bill themselves as 'cafes' but really are basic, no frills sandwich bars. At least the lunch is cheap. And the cappuccino's are decent.
Friday. Coronation Chicken.
I've actually never heard of this before, I simply pointed at the bowl of yellow stuff and asked for it on baguette (no Wonder bread for me). The name was announced as it was brought to my table.
I don't think it gets anymore British than this. Pieces of chicken in a sweet Indian curry sauce with a pompous sounding name.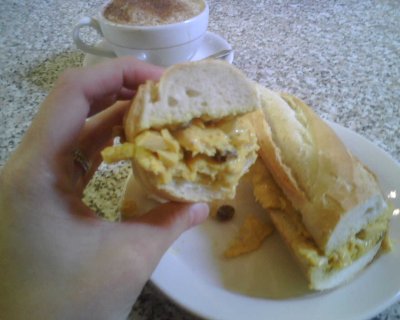 I could do without the raisins though. I've often said I don't like raisins in my baked goods, I've now learned they don't belong in my cold curry sandwich either.